What do the pros know about smoke damage repair that I don't?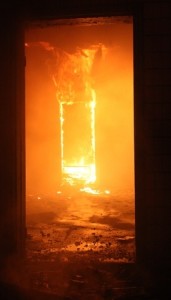 Smoke damage is one of the worst parts about a fire in your home, which is why smoke damage repair is so important. After the flames are extinguished and the damage is surveyed, even after the repairs are done, if the smoke damage cleanup isn't handled properly, your house is not going to be a place you can live and thrive. It's not just about the smell; it's also about the dangers and damaging effects of smoke and soot residue. And the pros know the tricks of the trade. Here's what they know that you should know.
The Truth about Smoke
Smoke is more than just ash and air. It's made up of a combination of liquid, solid, and gas that is left behind after incomplete combustion in a house fire. The black smoke and the soot left behind contain carbon dioxide, carbon monoxide, soot, and particulate matter that is composed of the fuel that was burned in the fire.
This fuel is generally some organic materials, such as wood and paper, but in house fires, it is often primarily synthetic materials that are commonly used to make household goods like carpeting, flooring, upholstery, furniture, appliances, toys, tools, cleaning products, and lawn care products.
The Dangers of Smoke and Soot
When these synthetic materials burn they create smoke that is full of toxins. Not only is it extremely dangerous if you breathe it in or come in contact with it, but it can be incredibly corrosive and cause damage long past when the fire is out. This is why you want to get smoke damage removal underway as soon as possible after a fire, even a small fire.
Why Smoke Cleanup Is So Challenging
Smoke and soot don't float through the air and magically disappear into the night. Instead, they cling to every surface in your home, even in other rooms far from where the fire took place. The smoke particles float on the air and move into every area of your home, including areas behind walls, under flooring, and in attic and crawl spaces, even into appliances, HVAC systems, and insulation.
Smoke and soot also come to rest on, and stick to, your furniture and your belongings. It can get embedded in the fibers of any textiles including carpeting, upholstered furniture, clothing, bedding, and towels. Because it moves into all spaces and onto all surfaces, it is a huge challenge to successfully clean it up and ensure complete removal, including the odor.
The Tricks the Pros Recommend to Get It Done
Restoration professionals have training and experience when it comes to dealing with the aftermath of a fire. This includes the right cleaning products, the right deodorizers, and the right equipment to manage the restoration process to the end. Here are some tricks they use that you might not have up your sleeve:
Open the windows: this might seem obvious, but it's a great way to start to clear the air. Open all of the windows and get some ventilation going.
Turn off the HVAC system: you don't want to increase air circulation through your heating and air conditioning system, this will just further the spread of smoke
Replace HVAC filters: you might have to do this a few times during the process, but this is an inexpensive way to help filter your air once you're able to safely turn it back on
Throw everything away: ok, not everything, but if you have smoke damage in your home you need to throw away any and all food that came in contact with smoke or soot, which is basically everything that wasn't sealed in an airtight container
Call the professionals: without the right products, tools, and know-how, you're in for an uphill battle if you try to tackle smoke cleanup yourself. It's too challenging and too risky for you to attempt on your own. Keep yourself, and your home, safe and let the experts handle it.
Contact Can-Restore for help with smoke damage removal online or by calling (770) 212-9775.