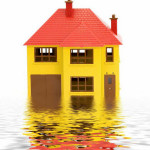 Storm and disaster recovery are always in the news these days. From tornadoes to high winds to hurricanes and tropical storms, it seems there's always damage from some weather-related event. And summer is a prime season for extreme weather, especially heavy rains and flooding.
Here are the top 3 reasons you could face water and flood damage repair services this summer.
1.  Floor, Wall and Foundation Seals
When there is extreme weather with a lot of rain the soil get saturated and water goes wherever it can. If your floors, walls and foundation are not sealed properly, the water can end up in your basement or lower levels. Water can seep through even small cracks and end up requiring extensive flood damage repair services.
2.  Clogged Gutters and Downspouts
If your gutters are dirty and full of debris, water cannot flow freely down them to be directed away from your house. When this happens the water from heavy rains will overflow and end up next to your house causing a flooding risk resulting in flood damage repair.
3.  Storm Surge and Torrential Rain
When this type of weather occurs it can cause flooding in and around your home, which can require flood damage repair. Whether it gets into your first floor or your basement or in and around your foundation, this is one of the primary causes of flood damage in the summer.
Looking for more information on flood damage repair services? Contact Can-Restore, your local Jasper, GA leader in storm and disaster recovery.