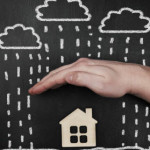 Storms happen and the best thing you can do is be prepared. But even with the best preparation, storm damage can still happen. When it does there are some important facts about storm damage services and home protection you should know.
Fact:    You cannot predict or prevent all storm damage all the time. However, home protection preparedness is a great way to ease the pain of storm damage and lessen the need for storm damage services.
Home protection steps should include cleaning up the property around your home including bringing in anything that can be airborne with the high winds. These items include hoses, garden tools, patio furniture and grills. Additionally, if you're in an area that experiences big storms regularly, having plywood window coverings ready or permanent latches installed can help avoid storm damage.
Fact:    It is often beneficial to hire a professional storm services company to manage your storm damage. Cleanup can be dangerous and extensive and it's not generally a DIY project.
If and when you do experience damage to your home or business it's important to understand how to manage the storm damage services piece of the puzzle. Professional storm damage services include a number of things to get your home or business back in working order. These include 24-hour emergency response, water extraction, mold and mildew prevention and mitigation, restoration of belongings, demolition if necessary, storage of belongings during restoration, and removal of downed and broken trees.
When the storm hits, call the Blue Ridge, GA Can-Restore as soon as possible to get the storm damage services in action. (770) 735-2695