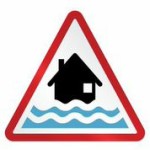 Summer storms can be awe inspiring, cooling, crazy, and destructive. One of the most common types of damage from storms is flood damage, which causes the need for flood damage restoration. Here's how it happens.
Water From Thunderstorms
Thunderstorms by nature generate a large amount of rainfall, which commonly leads to flash flooding, flooding of basements, and homes. Flood damage from thunderstorms is a common occurrence. In addition to dumping loads of water, thunderstorms can also create flood damage indirectly by damaging your home with high winds, which then allows water to seep into your home.
Hail Storms and Flood Damage
Hail can be sneaky. It pounds on your house and then disappears, but it can leave a wake of destruction. Hail can cause damage to roofs and flashing that creates access for water to run into your house. It can also damage gutters and downspouts, which then don't do their job of directing water away from your house and your foundation. When water pools next to your house there's a much greater chance of it seeping in through the soil and the foundation causing flood damage in your basement.
Hurricanes are the King of Flood Damage
Rising tides and walls of ocean water are just part of why hurricanes create flood damage. Hurricanes and tropical storms also come with huge amounts of rainfall. When there is too much water for the soil to absorb; flash flooding results. When there's flash flooding, your house is at risk for flood damage as well.
Thunderstorms, hail, and hurricanes are all storms that cause flood damage, either directly or indirectly. When flood damage happens to your home or business, your first call should be to the Cumming, GA Can-Restore, the local leader in flood damage restoration at (770) 212-9775.