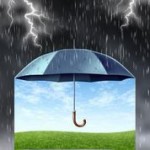 Have you looked at your homeowners' insurance policy lately? No? Neither have most people. Here's what you should know about storm damage insurance.
Check Your Policy
Take a look at your coverage. It's always good to know what you're paying for. The truth is: most policies do include coverage for things like hail and wind damage, but if you have a flood or water damage from a storm, you're probably not covered. Most storm damage insurance that covers flooding requires additional coverage.
Additional Coverage
Floods and earthquakes are generally not covered on standard homeowners insurance. No one ever thinks they're going to need storm damage insurance that includes flood coverage until they do need it.
Another thing to consider when looking at storm damage insurance is tree coverage. Many times during severe weather, trees, and tree branches can be blown down and into or on top of your home. Make sure you're covered. Some policies do not include this type of storm damage insurance coverage.
Weigh the Risks
Floods and fallen trees and other damage from storms happen all the time. If they haven't happened to you, it's possible they just haven't happened yet. Take a look at your home and your property and the weather patterns in the area you live in. Is there a chance you could have some storm damage? Is it possible you could have some damage that isn't covered in a general policy? Deciding whether or not to get additional storm damage insurance is a personal choice. Just be sure you're weighing the risks before going without.
Have more questions about storm damage insurance and whether it's right for you? Contact the Jasper, GA storm damage experts at Can-Restore today and talk to one of their experts at (770) 212-9775.