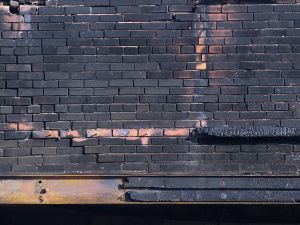 One of the hardest parts of fire damage restoration is smoke damage removal and odor removal, and the hardest part of smoke odor removal is making sure the odor is removed and not covered up. It's easy as a homeowner to air out your home after a fire and add some air freshener and launder any clothes and linens that are holding onto the smell of smoke. But that's really just the beginning. There are some very important steps that need to be taken for effective smoke odor removal.
1.  Air Circulation
Put up fans and open windows to increase the air flow in your home. This is the first step to smoke damage and odor removal.
2.  Clean Fabrics and Textiles
Remove fabrics, including clothing and linens, and textiles from your home and launder them or have them professionally cleaned. Rugs, carpet and the fabric on furniture will definitely need professional attention for smoke odor removal as the particles from the soot and smoke will cling to the fabrics. Professional cleaning with the right products is needed for permanent smoke odor removal.
3.  Wall and Furniture Cleaning
Soot and smoke are usually oily and will therefore stick to your walls and furniture. Cleaning them is not as simple as wiping them down with a wet sponge. They need to be cleaned with professional products to remove all of the soot and smoke. If any residue is left, the smoke odor will remain.
4.  Ozone Cleaning
Air purification and ozone treatment are the final steps in smoke damage and odor removal. This equipment releases ozone gas which will aid in smoke odor removal by removing the smoke odors from the air.
The hardest part of smoke damage and odor removal is doing it right. Call a professional in Jasper, GA today.