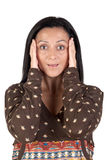 Fire causes smoke. Smoke causes damage. No one likes smoke damage, especially after dealing with the emotional upheaval from a fire. So, smoke damage cleanup is a priority after a fire. But most people don't understand the intricacies of smoke damage cleanup. There are some things that might surprise you.
Testing
Did you know that testing can be done to determine the type of smoke that's present after a fire? This helps determine what can be restored or repaired and what needs to be discarded or destroyed. It also helps determine the smoke damage cleaning method that will be used.
Toxins
Smoke leaves soot and residue in your home and on your belongings. Most people don't know that this soot and residue can be toxic and dangerous. It is made up of the materials that burned during the fire, including the toxins in synthetic materials, paints, glues, and plastics. Smoke damage cleanup can disturb the toxins in the smoke residue and create a dangerous situation if you don't know the proper process for cleanup.
Soot
There are different types of soot depending on what type of fire occurred. Some is dry and powdery, and some is sticky and smeary. A professional can assess the damage and determine the best process for smoke damage cleaning in your home.
Download our latest report on Fire, Water, and Smoke Damage for more information.