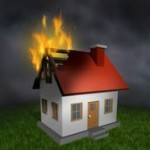 House fires are something we all hope we never face. But there are some interesting facts about fire damage and fires.
The leading causes of house fires are:
Cooking
Heating equipment
Smoking
Arson
Candles
It's not over when the flames are extinguished.
Once the fire is out, a lot of people assume the danger is gone and the damage is done. The fact is, more damage can be done the longer the fire damage sits untreated. Ash, smoke and soot are all extremely corrosive and will continue to affect your house until it's cleaned and restored.
Smoke is not always visible.
Depending on the fuel burned during the fire, the smoke residue may be black and dusty, dark and smeary, or invisible. Smoke damage isn't always what you imagine. But it all needs to be cleaned properly to fully deal with the fire damage.
Fire damage stinks.
Literally and figuratively. The smoke odor is one of the biggest complaints from fire victims when it comes to dealing with fire damage and cleanup. If smoke odor removal is not done properly the smell can linger for months, and even years. There have been occasions when homeowners have chosen to demolish and rebuild their fire-damaged homes rather than live with the smoke odor that was left behind after a fire.
Want more information on facts about fire damage? Download the latest report on fire, water and smoke damage from the Can-Restore in Blairsville now.