What do I do about fire and smoke damage when I've never dealt with fire and smoke damage?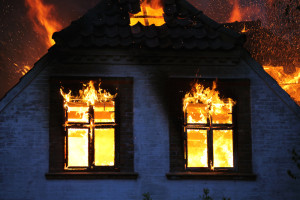 Are fire and smoke damage as bad as they sound? The answer is yes. A fire is a devastating event that can be life-changing. The panic and fear followed by heartbreak and feeling overwhelmed are entirely reasonable. But once the firefighters are gone and the fire is out, then what? Then it's time to deal with the cleanup.
Before you do anything, take a look at these five quick tips to help you deal with fire and smoke damage:
Tip #1: Safety First after a Fire
When we think of safety when talking about fires, we think of getting out of the house quickly, getting our family and pets out, and getting to safety. But there's more to safety than just during the fire. After a fire, the danger still looms.
Exposed electrical, water from the fire hoses, fallen walls, broken glass, and other debris can all be hazards after a fire. Don't just head back into your house when the firefighters give the all clear. Wait for a restoration company to be on site to make sure it's safe to enter the building.
Tip #2: Call Your Insurance Company about the Fire
The first call you need to make is to 911. The second call is to your insurance company. Reporting the event and the loss will get the claims process started as quickly as possible. An adjuster will be assigned to you who will assess your inventory of items lost for replacement and they will help you work with a restoration company to help oversee the repair process until all of the work is complete and you are back in your home.
Tip #3: Don't Mess with Anything in the Fire Area
There are a few reasons why you should leave everything as is after a fire. First, you don't want to do more damage by moving things around; it will just cause soot particles to embed further into the fabric of upholstery and the fibers of carpeting.
Second, don't turn anything on. This is especially important if you're considering turning on lights or fixtures in ceilings or walls that are wet. The wiring could be damaged. And appliances and other electrical devices could have internal damage from the fire, the water, or the smoke. It's important to have them cleaned and serviced before you try to use them again.
Tip #4: Don't Clean Up after Your Fire. Really.
This tip is important: don't attempt to clean anything. Sounds counterintuitive, especially when you see the mess left behind by the fire, smoke, and water. However, if it's not done properly, with the proper tools, products, equipment, and know-how, it can make the damage worse and the cleanup more difficult.
Smoke is made up of particles of the fuel that burned. In a house fire, that's usually a combination of organic materials, food and proteins, synthetic materials, and chemicals. This means that there are different types of soot and smoke residue left behind throughout the home.
Even if the fire is contained to a smaller area, you'll still find that the smoke residue is a complex combination of dry soot and ash and sticky, smeary soot. Because of this, it's better to wait until the experts are on hand to determine the proper method of cleaning for each area.
Tip #5: Trust Your Fire Damage Restoration Company
Restoration specialists are highly trained and certified to be able to address all of the cleaning and repairs that are required after a fire. This will include:
Emergency response by technicians or a catastrophe team, depending on the extent of the fire
Water extraction and home drying
Structural stabilization
Demolition, if necessary
Packing your items for storage during cleanup, if needed
Soot and smoke residue cleaning and removal
Ozone treatment and air purification
Smoke odor cleaning and odor treatment
Restoration of the home, structure, and interior
Recovery of your belongings including electronics, furniture, and documents
We hope you never experience the horror of a house fire, but if it should happen to you, being prepared and knowing what to do next can help reduce the stress. Contact Can-Restore for help with fire and smoke damage by calling (770) 212-9775.