Make simple, safe work of fire restoration.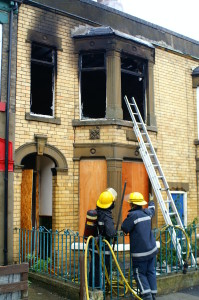 After a fire on your property, fire restoration services can help return things to normal. These include the removal of damaged possessions and building materials, but also the clearing out smoke-affected items, water removal and securing a building with structural damage. The quality of your restoration services can have a tremendous impact on the future value and safety of your property, so it's important to get the process right. Unfortunately, the time immediately following a fire is normally filled with chaos and confusion.
Clear your head by following this simplified step-by-step guide:
Contact your insurance company.
They should be able to get someone out to look at your home right away, and they'll be able to direct you to the securities your policy provides. You'll either have a claim covering actual costs or replacement costs. This generally represents a 15 to 20 percent difference in the amount of your payout. While it can take several months to receive a final payment, you can usually ask for an advance in order to pay for temporary lodging, supplies and fire restoration.
Seek estimates from established and reliable restoration businesses.
You'll run into many different types of restoration companies once you go looking. However, some will come to you. It isn't rare for independent contractors to show up on the site of a fire and offer to help with clean up or rebuilding. The problem is that these workers can be scam artists, and instead of helping you save money, they can take the few resources you have left and disappear. Work with a licensed restoration company with their own insurance and a permanent address. Experience can be a lifesaver once the after-effects of a fire set in.
Find emergency housing for your family and pets.
Hotels often have special rates for survivors of natural disasters. Your friends may offer to lend a hand too, and depending on your policy, you may be able to reimburse them for their efforts similarly to how you'd pay a hotel. Just know what costs are covered. There are many expenses you're expected to cover outside of payoff funds. Paying your insurance premium, for instance, is one task forgotten by many homeowners in crisis, but it can mean the difference between a quick and easy resolution to your financial issues and a long and tedious struggle to get the coverage you rightfully deserve.
Secure your home's structure.
While the fire itself may have caused just a little damage to your home, once it's open to the elements, things can go downhill fast. Pests and vermin, vandals (who can sue you if they're injured) and bad weather need to be kept out. One of the first things a reputable restoration company will do is work to seal off any areas of your home exposed to the great outdoors.
Begin restoration cleanup.
Soot and smoke residue should be removed as soon as possible. Because of the caustic nature of soot, these activities require special safety equipment and chemicals. Soot can damage your lungs just as easy as the wooden trim in your house. Worse, until these elements are removed from your home, they'll remain dangerous. A professional grade air purifier can help neutralize particles.
Water, too, needs to be removed and dried up as quickly as is feasible. Mold and mildew can set in immediately and permanently damage the walls, floors and ceilings, but also the support joists and ductwork in your home. Any water-affected items should be removed and cleaned or thrown away.
The road to fire recovery can be a long one, with new obstacles discovered at every point in the journey. For this reason, it's actually a good thing for your insurance company to keep your claim open for several weeks. However, if a month has gone by and you haven't heard anything or you're starting to run low on your advance, it may be time to get in touch. In the meantime, work with trusted professionals to return your home to a safe and secure space for your family.
Contact Can-Restore for help with fire restoration by clicking or calling (770) 400-9017.