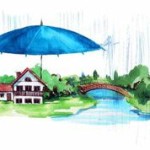 Flood? No! That's how we feel when faced with rising waters and the damage that follows. Floods happen for a variety of reasons, but no matter the cause, one thing remains the same: flood damage cleanup. There are a few ways to prevent flooding or reduce the damage, and some great ways to deal with the flood damage cleanup if needed.
Flooding can result from something as minor as a leaky pipe hidden behind a wall to a major incident like flash flooding from a major storm. There are some things you can do to help you prepare for flooding from a storm, which will cut down on the need for flood damage cleanup.
First of all, examine your home. Check the foundation for cracks where water can seep into your basement. Take a closer look at your gutters and downspouts. Are they clean and clear of debris? Water can overflow dirty gutters and run down into your foundation instead of being directed across your roofline. Also, your downspouts should divert water down and away from the side of your home. Flood damage repair often comes after water gets into your home in preventable ways.
When flooding happens even if you're prepared, flood damage cleanup soon follows. Water extraction is key to effective flood damage cleanup to prevent further damage and stop mold growth. Cleanup and restoration follow.
Do you need flood damage cleanup after a big storm? Call the Can-Restore in Cumming, GA today at (770) 212-9775.