What the heck are you supposed to do with a flood damaged home?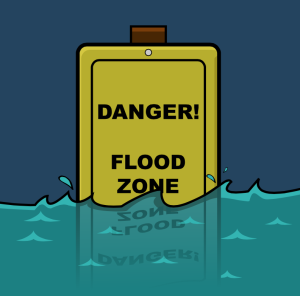 Flood damaged home? Seriously? Yes, seriously. Water got in, and now you've got damage. It's one thing that homeowners can all agree is a nightmare. The bad news is that most homeowners will experience some sort of water damage to their home at some point. Not the news you wanted, is it?
So, just suppose you're one of those people that randomly gets hit with flood damage. What do you do? It's gotta be fixed. What you need is the sure-fire fix for it. It's not a one-step process, but it is manageable. Read on!
Safety First
The number one priority in flood recovery is ensuring your safety and the safety of your family, loved ones, and pets. If the flood recedes, it doesn't necessarily mean the danger has passed. You need to be cautious of shifts in the structural integrity of hour home and the foundation, the risk of electrocution because of the water in and around outlets, lighting, appliances and other electrical devices, and the presence of bacteria brought into your home with the flood waters.
Take Steps to Protect Your Home
If your home is so damaged that you need to stay elsewhere until the damage is fixed, be sure to protect your home before you leave. If it's safe to do so, turn off the electricity, shut off the water, and take your important paperwork and documents with you. Check with your restoration company for other recommendations for securing your property.
The Recovery is in the Drying
The most important part of recovery after a flood is complete water removal. Extraction is key! If any water is left behind it's enough to do damage, create a pocket of dangerous bacteria, and a perfect breeding ground for toxic mold. Water will get into every area of your home, even areas you can't see. Get the water out and the home dry for successful flood restoration.
Cleanliness is Next to Dryness
Once the area is dry, the next step is to clean. If the flood is minor and doesn't affect a large area of your home, the cleanup will be easier and less of a process, although the steps will be the same. If the flood is from a natural disaster, the cleanup could be much more extensive and labor intensive. Either way, there are steps to proper cleanup that include removing all of your belongings, cleaning the flooring, walls, ceiling, appliances, cabinets, etc., and then using antibacterial products to make sure the area is not only clean, but also not a safety concern.
Restore and Rebuild
Once your home has been carefully dried and cleaned, the next steps are restoration and rebuilding. Your belongings will go in one of three categories: keep, discard, or restore. If they're not damaged, they can be cleaned and stored until your home is once again livable and you can move them back in. If they're not repairable, they need to be responsibly discarded. If they're restorable, then the restoration process can take place at the same time your home is being rebuilt.
Rebuilding your home, whether the entire house or just the rooms or areas affected by the flood, will get your home back on its feet. Keep in mind that during this rebuild it's important to consider taking flood protection measures just in case the waters rise again.
Understanding the Scope
Floods come in all sizes and can leave all levels of destruction in their wake. No matter the size of the flood that hits your home, understanding the process of restoring it to its pre-flood condition will help get you through it. And so will understanding that you never have to do it on your own.
Dealing with flood damage is something a trusted professional can help you manage. It can be overwhelming, so don't go it alone.
Contact Can-Restore for help with your flood damaged home by calling (770) 212-9775.