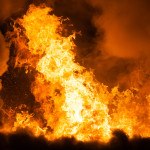 Fires are scary. No one wants to be the victim of a fire. But if you do experience a fire, you should understand the fire damage cleanup process so you feel comfortable and not overwhelmed.
Knowing what's true and what's not helps. To get you started, here are the 4 biggest myths about fire damage cleanup.
It's All About the Flames
Fire damage is the result of flames, and so much more. Water, smoke and soot are all huge culprits when it comes to fire damage, and they are often the primary focus of fire damage cleanup.
 The Water Isn't the Issue
Water used to extinguish a fire can often cause as much damage or more damage than the fire itself. Water can seep into every nook and cranny in your home. It can get under floors and walls, into basements and crawl spaces, and it can cause major damage. Not only does the water cause damage directly, but water also causes mold.
 Mold Isn't So Bad
Wrong! Mold is very bad and is a critical concern during fire damage cleanup. Mold is toxic and dangerous and can cause health issues as minor as nasal congestion and headaches to as severe as respiratory distress. And not only is it a serious health concern, but mold can destroy your furniture and belongings. Once mold settles in on your fabrics, it can be extremely difficult to remove.
 Furniture Will Be a Total Loss
Furniture can often be salvaged and restored during fire damage cleanup. A reliable restoration company can clean and restore much of your furniture that wasn't destroyed during the fire.
There is a lot to understand about fire damage cleanup, but separating the myths from the truths is a good place to start. For more information from you fire damage cleanup experts, check out the latest report from Can-Restore on fire, water, and smoke damage for home and business in Blue Ridge, GA.