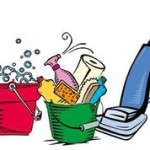 Smoke damage is what you're left to deal with after a fire. Fire is one of those elements that's amazing when it's on purpose, contained, and controlled, but is a nightmare when it's not. Fire in your home can be devastating on many levels.
Google can teach you a bit about smoke damage cleaning, but there's a lot it can't teach you.
If you search Google for tips on smoke damage cleaning you'll get a lot of how-to and DIY websites with long lists of products and equipment. They'll let you know to wear protective gear because smoke and soot is dangerous and shouldn't come in contact with your skin.
Google will also teach you that smoke damage cleaning is critical because smoke damage is pervasive and that smoke odor can linger for weeks, months, and even years. It won't take long to understand that smoke damage cleaning needs to be done right the first time.
What Google won't teach you about smoke damage cleaning is that it can cause additional stress after an already stressful incident. Smoke damage cleaning is hard and can get overwhelming if you don't know what you're doing or don't get it right the first time.
The main point you need to know about smoke damage cleaning, whether you learn it from Google or not, is that you should put this job in the hands of a trusted professional.
Facing smoke damage cleaning in Jasper, GA? Contact the local North Georgia Can-Restore today.