Are you panicking about smoke damage restoration?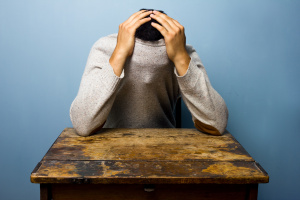 Smoke damage restoration need not throw you into a fit of despair. Though smoke damage is a hideous thing to deal with, there are resources available, and there is help out there. Instead of a full-blown meltdown, read on for some of the best ways to deal with smoke damage.
Understanding the Element of Time
When it comes to smoke and fire damage, time is of the essence. Cleanup should start, like, yesterday. In all seriousness, the sooner the restoration process can begin the more likely the damage done can be stopped, if not reversed.
Smoke and soot will discolor plastics, wallpaper, and paint within minutes of contact. Soon after it will cause furniture and appliances to discolor, and if left longer than a day or two, it can permanently stain fabrics including upholstery, drapes, and any textiles in your home. It is so corrosive that it will etch glass and, in time, will be impossible to remove. It will almost become one with the surfaces it's come in contact with. So don't put off cleanup. Start as quickly as possible.
Cleaning the Room
In order to get the smoke and soot out and to begin the restoration process, the rooms need to be cleaned. This means taking out the soot and removing anything that needs to be cleaned or that can't be recovered or restored.
Removing burned or melted carpeting and carpet padding, pulling up charred and burned flooring that is too damaged to be repaired, removing burned drywall and appliances, and taking down fixtures and lighting that need to be repaired, or discarded, is the first step to cleaning. Clearing the space and getting everything that is not part of the house helps give access to the other surfaces.
Using special chemical sponges and wipes, customized tools and dusters, and cleaning products specifically designed for smoke cleanup, technicians will work to remove the smoke and soot from all of the surfaces once the furniture, appliances, and burned flooring and building materials have been removed. This also helps to start the odor removal process by moving out much of what has absorbed the smoke and the smell.
If there is flooring or structural elements that can be cleaned, repaired, or restored to prevent removal and disposal, technicians will tackle this part of the cleaning with vacuums, carpet cleaning, and upholstery cleaning.
Battling the Odor
Nothing smells worse than a hockey team's locker room. Except a smoke damaged house. Seriously, the odor from a house fire can be shockingly bad, especially if you aren't used to it. And because the heat from a fire can cause the pores in wood, furniture, and other porous materials to open, they fully absorb the particles of smoke that create the pungent smell, and it sticks. So dealing with the smoke odor is critical to getting your home back to living conditions.
The first order business after the initial clean up is to start ozone treatment. Ozone will help to oxidize the smoke particles in the air and make them neutral, so they lose their odor. Along with the ozone generators is air purification and filtration with HEPA filters.
Once the smoke particles have been removed from the air, the belongings and furniture are removed and cleaned, and the interior of the home scrubbed free of the soot and smoke, the rest of the restoration project can move forward. This includes restoration of belongings, furniture, electronics, and documents.
Getting through a fire is a long and arduous process. Even a small fire can cause major damage, especially when it comes to the smoke damage left behind. Don't tackle this on your own.