Think you might go crazy dealing with water damage cleanup? Here's how not to.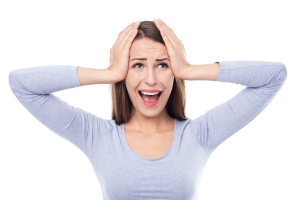 There's nothing that can set a homeowner on edge like the mention of water damage cleanup after a flood. It can make a sane person crazy. So how do you deal with flooding and water damage without losing your mind? Read on for some friendly advice.
Why You Feel Like Your Sanity is Slipping
When you have water in your home that shouldn't be there, it can be disturbing and uncomfortable and upsetting. It's hard to know what to do, where to turn, and who to call. And the worst part is watching your home and your belongings jeopardized by all that water. Whether the flood is from a natural disaster or a broken pipe, it's all the same. It can be devastating and confusing. But those feelings are completely normal. Flooding is devastating and it causes upset and confusion. But don't let it overwhelm you.
What to Do First. And Second.
When it comes to flooding it's important to know that you are not alone. You don't need to take on the task of cleanup and repair and recovery on your own. There is backup, you just need to call for it.
Who do you call first? Call your insurance company. Depending on the event, you could be covered, if not fully, than possibly at least in part. Get the claims process started.
Who do you call second? Call a reliable water restoration company. You aren't expected to know how to handle a whole lot of water in your house; that's not your job. Don't go crazy trying to figure out what to do; let the experts do that for you.
The Lowdown on the Experts
Restoration companies have 24/7 emergency response and service in the case of a flood or other disaster. Calling them will get trained and certified technicians to you quickly. They'll use their expertise to evaluate the situation, secure your property, create an action plan, and begin the cleanup process.
What Can They Do That Will Help Save Your Sanity?
That's a good question. The answer is, everything. It's beyond the average homeowner to try to manage all of the emotions and upset after a flood while keeping up with their life and commitments and trying to manage flood damage cleanup. That's why there are restoration professionals. Here's a quick list of what you can expect from them.
24/7 emergency response – because who wants to sit around and wait for some sign of recovery with a company that takes their time getting to your emergency? Not you. You need action and you need it as soon as you know you need flood recovery help.
Water extraction – using the latest technology in extraction tools they will remove the water from your home and they will dispose of it properly, which means not down the drain or in the gutter.
Drying – from using cabinet and wall cavity dryers to industrial fans and air movers to dehumidifiers, getting your home dry is priority number one, to prevent further damage and to reduce the chances of mold and mildew growth.
Cleaning – wood, carpet, and vinyl flooring all need to be thoroughly cleaned after a flood. This is part of the job.
Antimicrobial treatment – preventing the spread of bacteria that can be harmful or dangerous is part of the process after the water has been extracted.
Repair and reconstruction – fixing your home where the damage was done is the only way to get you back into your house and back to life as you know it.
Restoration – part of helping with your recovery is restoring your belongings including furniture, documents, and electronics.
It's easy to feel like you're losing your mind when your house gets flooded. It's a crazy and overwhelming situation that can leave you feeling a bit out of control. Don't let it take your sanity! Trust the pros to help you manage the water damage and get your house back to its original condition.
Contact Can-Restore anytime, day or night, for help with water damage cleanup after a flood by calling (770) 212-9775.