What would Santa think of water damage restoration?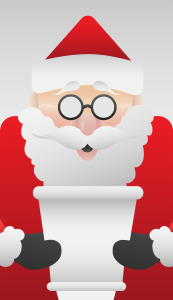 The holidays are fading into memories, but if you're facing water damage restoration, you might be cursing your luck, or you might be wondering if Santa missed you on his naughty list and is giving you a really early lump of coal in the form of water damage. Either way, no one wants to face this challenge at the beginning of a new year. So what is the deal with water damage restoration? Is it nice? Or is it naughty? Here's your answer.
Water Damage Restoration is….nice!
Here's a breakdown of the most important reasons why.
If You Have Water, You Have Water Damage
Water in your home means water damage, whether minor or major, it's there. It could be something as small as a wet rug to something as major as a total devastation of your home. Either way, you can't ignore it. If you have water in your home, you have water damage, in some capacity, and it needs to be addressed. Restoration does just that.
Water Extraction
Have you ever tried to clean up water with a mop or a squeegee or a shop vac? It can take forever. Even a small amount of water will have you squeezing out the mop or emptying the wet/dry vacuum canister over and over. If you really have a flood from a broken pipe or a heavy storm or even flash flooding, there is no way you can clean up that much water by yourself.
That's why water damage restoration professionals are so nice. They can handle the water extraction with commercial equipment and the expertise to get it done in the most efficient and effective way possible. From extracting the water in your home with the right equipment to state-of-the-art drying equipment, they can get the water out of your house and get the restoration process underway.
Handling the Cleanup
Once the water is out, that's not the end of the job. Cleanup after water damage can be a huge undertaking. Removing furniture and belongings, pulling up carpet, replacing flooring, tearing down and rebuilding drywall, and cleaning what is salvageable, this is all part of the process a restoration company will go through after water damage.
Don't Forget About the Sewage
What? Sewage?! Sewage is for real, and if your house floods, especially your basement, there is a possibility your home will be exposed to sewage. Is that something you want to deal with the week before Christmas? No? Good, you don't have to. A professional restoration company has experience dealing with sewage safely, and cleanly, so you don't have to. And, on top of that, they will treat your house with antimicrobial treatment to kill and prevent bacteria from sewage exposure.
It's Not the Water, It's the Mold
One of the worst after affects of water damage is mold. All mold needs is humidity and warmth to grow. And grow. A wet house is the perfect host. This is one of the most important things a restoration company will do. They will identify, treat, and mitigate any mold that has made an appearance as the result of water in your house.
If water damage is keeping you from having anything but a happy new year, just remember, you don't have to deal with it on your own. Instead of getting into the groove of the new year because you're trying to clean up a flood in your home, call in the professionals. They will not only take the cleanup, repairs, and restoration off your hands so you can work on your resolutions, but they are guaranteed to do a better, safer, quicker, and more effective job than you. Nice, huh? Santa would agree.
Contact Can-Restore for help with water damage restoration by calling (770) 212-9775 or by clicking this link: https://can-restorenorthga.com