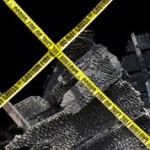 Fires are destructive and devastating and heartbreaking. They can cause panic during the fire and confusion after, especially when it's time to deal with fire restoration. But the term "fire restoration" can also be confusing. So exactly, what is fire restoration?
Fire Restoration Defined
Fire restoration is the process of restoring your property to its pre-fire state. This process includes everything necessary to make your home look as it did before the fire, inside and outside, including not just the structure but also the furnishings and belongings.
The Damage Done During a Fire
The damage a fire can do runs the gamut from complete destruction to burning and charring to smoke damage to water damage to all of the above. Often the most damage is done by the smoke created by burning fuel. Water then mixes with that burning fuel as fire fighters try to extinguish the fire.
The Fire Restoration Process, Simplified
There are a number of things a fire restoration company will do after a fire. This list includes cleaning soot and smoke residue, water extraction, air cleaning and odor removal, structural repairs, demolition if necessary and restoration of belongings. Fire restoration is a complex process, so this list has been simplified, but it gives you a general idea of what needs to be addressed.
After a fire when you're looking at fire restoration to get your home back in order, contact Can-Restore in Blairsville, GA and talk to a professional about the process and what they can do for you to get your life back on track.